Assuta - Israel's hospital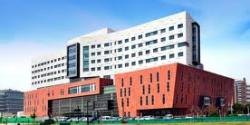 Assuta Medical Center comprises four hospitals and six medical centers, which are located in nine Israeli cities.
Assuta, Tel Aviv, the largest of all Assuta hospitals, is a recognized leader in health care in Israel. In addition to traditional surgical and medical services, Assuta Tel Aviv, has pain and sleep clinics, women's health centers, IVF, and more.
Assuta Medical Center – leads in medical care, not only in Israel, but also worldwide; hundreds of thousands of cured patients from all over the world gladly testify to the best quality medical care and medical facilities provided by Assuta.
Assuta Medical Center employs more than 1,500 highly skilled physicians, graduates of the best medical schools in the world, and are part of the Israeli and international medical elite. Over the years, the admission to practice medicine at any of Assuta's medical centers became a symbol of quality for the Israeli doctors, and the proof of their being part of the country's medical elite.
Assuta's clinics and hospitals are designed to provide patients with the highest quality medical care and convenient general services. Care for patients begins from the moment they arrive in Israel and are delivered to one of the medical centers. The spacious Assuta, Tel Aviv, hospital can accommodate up to 350 patients. There are 27 ICU units for patients brought in by ambulance. Patients arriving at Assuta hospital can rest assured that they will receive the most efficient and high-quality medical care. The hospital uses cutting-edge diagnostic systems allowing doctors to to diagnose the problem quickly and accurately.
One of Assuta's distinctive features is concern for the comfort and convenience of its patients as well as scrupulous attention to details that can significantly affect the well-being of the patient and his impression of the overall treatment. That is why the hospital rooms at Assuta resemble good hotels rooms, rather than hospital rooms. They are equipped with state-of-the-art medical equipment. The medical staff is polite, friendly and highly professional. Everything is geared toward making the patient as comfortable as possible, even while undergoing the most difficult treatment.
Application form for treatment