Schneider Medical Center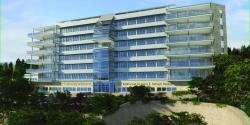 Schneider Medical Center is the largest children's hospital in the Middle East. The hospital is located in greater Tel-Aviv.
When a foreign patient applies directly to the hospital via its website, or direct-dial telephones, it reaches the hospital's international department. The department is quite small and cannot provide all necessary logistic services to foreign patients. Schneider is a public hospital - all email addresses of its employees and of its international department end with clalit.org.il. Without the assistance of medical tourism providers a foreign patient won't get a timely reply from the hospital or any logistical support, while there. For many types of diseases, the hospital is the preferred place for treatment, and for some, such as organ transplants, there is no other alternative in Israel.
The hospital treats about 250,000 patients a year; 7,500 operations and more than 4,000 cardiac catheterization procedures are performed there annually. The hospital employs 1,800 medical staff, many of them world-famous doctors. Schneider has six operating rooms, cardiac catheterization laboratory, and three intensive care units.

Schneider Children's Medical Center specializes in the following areas of medical treatment:
Certain types of cancer and oncology, such as leukemia,
endocrinology, for example, treatment of type 1 diabetes,
cardiology,
neurosurgery,
organ transplantation and bone marrow,
neonatology
If you are not sure which hospital is better suited for the required treatment, you should find it out.
For example, Ichilov Hospital is best for orthopedic oncology and gastroenterological problems. Best Israeli neurosurgeons, also work at Ichilov.
Excellent treatment is provided at Safra Children's Hospital (Shiba Medical Center) in oncology, neurology and more. In order to choose the right hospital for treating your child, you need to turn to professionals. You can do it by filling out an application on our website.

Schneider's Children Hospital has 250 beads, of which more than 100 people are in emergency wards (neonatology, intensive care, etc.). There are no private hospitalization rooms at the hospital; all wards have 6-8 beds per room. Usually the hospital exceeds its capacity and the occupancy rises to 120%.
Application form for treatment