Herzliya Medical Center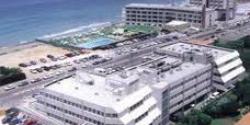 Herzliya Medical Center (HMC) was founded over 30 years ago, as the first private hospital in Israel. Today it is one of the leading private medical centers in Israel; it provides medical services at the highest professional level. HMC is conveniently located in the city of Herzliya, on the scenic shore of the Mediterranean; the center is equipped with excellent, modern facilities.
All patients treated at Herzliya Medical Center, undergo medical examinations at the Center, equipped with state-of-the art equipment. HMC's medical staff includes more than 500 medical specialists, most of whom are heads of departments and leading specialists who work at public hospitals and teach at various medical schools.
Currently, Herzliya Medical Center has more than 120 wards and offices. More than 5,000 cardiac surgeries and about 20,000 cardiac catheterizations have been performed at HMC facilities. The center has four inpatient wards, equipped with top of the line medical equipment, which greatly facilitates patients' effective recovery, while comfortable interiors make the hospital stay as pleasant as possible.
HMC is a multidisciplinary center that provides comprehensive medical treatment in allergology, pediatrics, hematology, and many other areas.
Herzliya Medical Center also provides air transportation services for patients that require urgent transportation from abroad; this service is organized at the professional highest level: the aircraft is equipped with medical equipment to the most stringent requirements of aviation medicine, and the flight can be arranged at any time of the day, at a very short notice.
Herzliya Medical Center has created optimal conditions for the treatment and rehabilitation of its patients. The administration has invested in furnishing HMC's facilities with modern office equipment, as well as state-of-the-art medical equipment. Patients can also choose whether to be hospitalized in a private room or in a room for two. In each ward the patients are constantly supervised by well trained, professional staff, patients requirements are always taken into consideration.
Department of medical tourism was created at the Center especially for foreign patients. This department provides high quality services, as well as consular support to the Center's patients.
Application form for treatment