Prostate Cancer - Treatment in Israel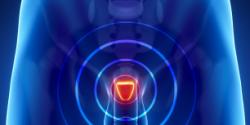 Prostate Cancer - Diagnosis:
Extended blood tests, including oncomarkers, and urine tests - $ 670
US of the urinary tract, with definition of residual urine - $ 490
Consultation by uro-oncologist - $ 550
Optional - radionuclide bone study ($ 820), full body CT ($ 950)
Biopsy of the prostate under the control of trans-rectal ultrasound (when required) - $ 2,100.(results, including pathology report within 5 work days)
Duration of the diagnostic period 3-4 work days.
The program also includes: hospital – hotel transfers, services of an English speaking medical coordinator, translation of all medical documentation into English.

Treatment options and Costs:
Proposed treatment depends on the diagnostic results.

1. TURP (Transurethral Resection of the Prostate)
Elective surgery - Transurethral Resection of the Prostate (TURP) is a surgical procedure to deal with patients with an enlarged, benign (not cancerous) prostate, called Benign Prostate Hyperplasia or BPH. The correct term for the procedure is adenomectomy (removal of a portion of the prostate), but the more common term of prostatectomy is probably what you have heard or seen. It is performed in cases of severe urinary dysfunction that impairs the quality of patient's life. Cost - $13,200, including 3 days of hospitalization.
The patient has to remain in Israel 7 days, following his discharge from the hospital.

2. Radical prostatectomy (open or laparoscopic surgery)
For patients aged 50-70 years, when the biopsy confirms adenocarcinoma, surgery is the preferred treatment - radical prostatectomy. Cost of operation - $ 18.950, including 4 days of hospitalization.
After being discharged from the hospital, the patient should remain in Israel for another 10 days for outpatient observation, since he is discharged with a catheter, which will be removed by an urologist on the 14th day after the operation.

3. Brachytherapy, (near-focal radiotherapy)
Near-focal radiotherapy with the introduction of a radiation source into the prostate tissue; the process is controlled by means of sonography. This manipulation is carried out in cases of adenocarcinoma of the prostate, with a low Gleason score, as an alternative to radical prostatectomy, especially for young adults (under 55 years).
Cost of the procedure - $ 19,980, including one day of hospitalization. The procedure is carried out at SHIBA Medical Center, which has 10 years of experience in the application of this method. Once the radioactive emitter is installed the patient can return home and come back for the extraction of the emitter once the treatment is complete.

4. Remote radiotherapy combined with hormonal therapy
This technique is used for adenocarcinoma of the prostate when there is a suspicion that lymph nodes of the small pelvis might be involved, or when the patients is older than 65. A regular course of treatment consists of 35-42 sessions. The cost is calculated according to the total number of fields – 35-42 sessions, 2-3 fields each- minimum 70 fields, maximum 120 fields. One field costs 210$. Consultation by radio-oncologist 550$, simulation of the radiotherapy plan 1,500$.
Application form for treatment