Hadassah Medical Center, Jerusalem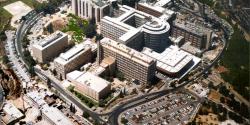 Hadassah Medical Center,located in Jerusalem, is one of the best medical facilities in the world. Consisting of two hospitals, Hadassah Har-Ha'Tsofim and Hadassah Ein-Kerem, it's one of the largest medical facilities in Israel, providing medical assistance not only to Israelis, but also to patients from all over the world. In 2005, the hospital has been nominated for the Nobel Peace Prize, "for compliance with the standards of equality in the treatment of patients of all nationalities, and for Hadassah's contribution to promotion of the peaceful coexistence of nations".
To date,Hadassah hasmore than 70different departments, 9 – specializing in intensive care, 31 operating rooms, anda network of 120 private clinics and health centers located throughout Israel and abroad. Both Hadassah Hospitals have a total of 1,000 hospital beds. Hadassah's medical staff numbers of 5,000 employees, of which 850 are doctors, many of whom are world-renowned specialists, who've developed new treatments and pioneered various medical techniques.
Each year, more than a million people are being treated at Hadassah, thousands of them - patients from abroad - the Middle East, Europe, Africa, the U.S., South America and elsewhere.
Since the hospital was founded, over90 years ago, by "Hadassah" - the Women's Zionist Organization of the United States – it works in close cooperation with the Hebrew University of Jerusalem - the oldest and one of the most prestigious educational institutions in Israel and worldwide. Hadassah Medical Center ismajorresearchcenter.
Hadassah Hospital also runsschoolsfor training of medical personnel, medical student from the Hebrew University, and hundreds of doctors from all over the world receive advanced medical training and are specializing in various disciplines within hospital walls.
Years ofresearch and development activities carried out in cooperation with the Hebrew University and other educational institutions, have led to breakthroughs in various medical disciplines, such as genetics, stem cell therapy, bone marrow transplantation, etc.
Hadassahruns ten different researchinstitutes, such as the Israel National Institute for Bone Marrow Transplantation, the Institute of Gene Therapy, Institute for the Study of Diabetes Mellitus and others. Thanks to their research, the Hadassah Medical Center has earned a resounding international reputation in the medical community, as one of the leading medical centers in the world.
In order to provide medicalservices to foreign patients Hadassah Hospital has established department of medical tourism. It accepts and process applications from thousands of foreign patients, prepares treatment programs and ensures that foreign patients receive all the necessary services - translation, accommodation, etc. Tens of thousands of people around the world are alive and well, thanks to the treatment they've received at Hadassah.
Application form for treatment