Herniated spinal disc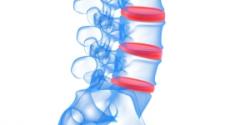 Spinal disc herniation is a tear in the outer, fibrous ring of an intervertebral disc that allows the soft, central portion to bulge out beyond. It might develop due to trauma, lifting injuries or other causes. Symptoms of a herniated disc can vary depending on the location of the herniation. They can range from little or no pain (if the disc is the only tissue injured), to severe neck or low back pain radiating into regions where nerve roots are affected or impinged by the herniated material.
Based on our long term experience we can unequivocally state that all methods of minimally invasive hernia correction (endoscopy, ablation, vaporization, ect.) provide short-term relief only. After 1-3 years, patients return for further treatment. The only technique that assures good results is the removal of the damaged disc and installation of a dynamic clamp / fixator that preserves a full range of physiological movements. We are working with the best spinal surgeon in Israel, Dr. Israel Pekarsky.
Basic program and costs for spinal disc hernia surgery
• Operation costs of $ 29.200 include - set of dynamic or static fixators and 5 days of hospitalization in the department of orthopedic surgery at "Assuta".
• Each additional fixator adds to the cost of operation 6.500 USD
• An MRI scan may be required prior to the operation - $ 1,550
• Consultation of the operating spinal surgeon - $ 550
• Standard preoperative preparation (ECG, chest x-ray, routine blood tests, anesthesia consultation) - $ 770

The patient starts walking about one day after the operation, and is discharged from the hospital after 4-5 days. He can leave the country 12 days after the operation.
Application form for treatment