Hypertrophic Cardiomyopathy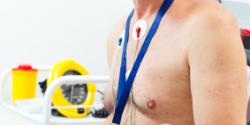 During preliminary examinations the patient undergoes stress echocardiography, and consultation with the treating cardiologist, after which a final decision regarding the treatment - conservative or operative – is made.
The operation is called myectomy.
It is an open-heart surgery that lasts 3 to 5 hours and is considered to be a low-risk surgery (even lower than coronary artery bypass grafting), when performed by first class specialists.
The operation is performed by Dr. Leonid Sternik - deputy head of cardio-surgery at Tel Hashomer and Assuta hospitals.
Dr. Sternik haa operated in Cleveland, USA, for several years and is considered the best specialist in this field in Israel.
Preoperative examinations include:
Stress echocardiography - $ 650;
Consulting Cardiologist - $ 550;
Preoperative preparations(routine blood tests, chest x-ray, anesthesia consultation) - $ 770;
The cost of Myectomy and postoperative monitoring by the cardiologist, include up to 7 days of hospitalization at "Assuta" Hospital, is $ 37.000.
Application form for treatment