Mitral valve replacement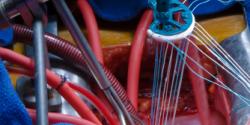 The program includes:
Routine blood tests (general, biochemistry, lipids, coagulation, electrolytes) - $ 670;
Stress Echocardiography - $ 650;
Consulting cardiologist - $ 550;
Consulting cardiologists - $ 550.
Tests are carried out within 2 working days at "Assuta" Tel Aviv.
Mitral valve replacement surgery, at "Assuta" includes 7 days of hospitalization, one day in the intensive care unit, the valve prosthesis itself, neurophysiologic monitoring of the operation, and postoperative monitoring by cardiac surgeon and cardiologist during 14 days following patient's discharge. Price - $ 40.570
Whenever there are symptoms or ECG signs of coronary heart disease a diagnostic coronary angiography is performed prior to the operation.
The cost of this procedure is $ 6,500
When ischemic lesions of the coronary arteries are detected a combined surgery of concomitant mitral valve surgery and coronary arteries is performed. The cost of this surgery is around $ 50,000
Mitral valve replacement is performed as an open-heart surgery, as well as an endoscopic surgery. The latter method is known to have many complications; therefore young, stable patients are advised to undergo an open-heart surgery.
The surgery is performed by a leading heart surgeon Dr. Vladimir Kremer, Deputy Head of Department of Cardiology at Ichilov Hospital.
Application form for treatment