Sheba Hospitals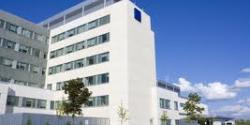 Sheba Medical Center is, in fact, a medical city that includes more than 150 different clinics, offices and ancillary healthcare facilities. Originally "Sheba" was a military hospital; however within five years of its creation it started providing medical services to civilians as well as to military personal. Over time, the hospital expanded, new, state-of-the-art departments and clinics were added. Today, "Sheba" is the largest University Hospital in the Middle East, which employs more than 7,000 medical personnel and has more than 2,000 hospital beds. About 1,200,000 patients, both local and foreign, are successfully treated there each year.
Sheba was the first Israeli hospital in which a successful heart transplant operation was performed. Also, the first cardiac anomaly in a child was successfully treated here; the first successful IVF treatment was also performed here, at Sheba Medical Center.
Active medical research, of major Israeli universities, is centered at Sheba Medical Center. This fruitful collaboration, between various universities and the hospital, allows patients to receive the most advanced treatment available, which leads to successful treatment of most complex diseases.
When the need to solve a complex medical problem arises, a medical consultation, which includes professors and leading experts from different disciplines, is called. Through collaboration with various universities in Israel and abroad, Sheba's medical research center is leading in cancer, cardiac, pulmonary, immunological, and other areas of research and medical treatment.
Sheba's Center for Bone Marrow Transplant, is the largest in Europe, and is considered to be one of the best in the world. Hundreds of bone marrow transplants and thousands of stem cell transplants have been successfully performed here.
Sheba Rehabilitation Center enjoys excellent international perpetuation. Rehabilitation, as such, is especially important after complex cancer and other surgeries, sports injuries, severe wounds, brain and spine injuries, as well as protracted pathological processes affecting the body. Sheba Rehabilitation Center is the largest in Israel; it treats all post-operative patients, and all those in need of physiotherapy and rehabilitation. The Center is particularly successful in rehabilitating patients after cardiac surgery, women after childbirth, and patients with various other problems, including comatose patients.
Sheba Medical Center has a great pediatric hospital. It's located in a separate building, and has more than 150 beds. The Pediatric Hospital provides medical care for children in all spheres of medicine, including cardiology, neurosurgery, oncology, intensive care and many others. Each year, the clinic treats about 70,000 young patients. It provides the best treatment and excellent rehabilitation facilities. The hospital is equipped with the most advanced medical equipment; the staff regularly participates in various training programs provided by the best pediatric hospitals in the world.
Israel's National Institute of Epidemiology and Public Health, and the National Blood Bank are also located in Sheba. The aforesaid organizations provide the basis for advanced training for medical professionals; the aforesaid training centers are equipped with "robot-patients", used to train medical personnel in new treatment technique.
Application form for treatment