Varicose veins of lower extremities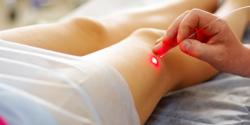 Doppler (NIVA) + consulting vascular surgeon - $ 950
After that, a vascular surgeon decides on the preferred treatment.
Sclerotherapy of veins of both lower limbs – intravenous injections by means of US technology (one or two sessions with an interval of 7 days) costs - $ 8,300
The procedure is performed at "NARA" Medical Center. The attending physician is Dr. Moshe Halyak - Deputy Head of the Department of Vascular Surgery, at "Tel Hashomer" Hospital.
Application form for treatment