Atrial Fibrillation (cardiac arrhythmia)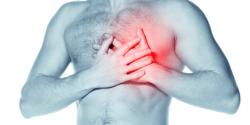 Once the results are in decision on further treatment is made: medication (prescribed by consulting cardiologist), or radiofrequency ablation.
Sometimes, when arrhythmia is combined with ischemic heart disease consulting cardiologist recommend surgical ablation.
The cost of radiofrequency ablation is $ 18,200, including up to two days of hospitalization. The procedure is performed by Dr. David Luria, Head of the Department of Cardiac Arrhythmia at"Tel Hashomer" and "Assuta" hospitals.
• Routine blood tests (general, biochemistry, lipids, hormones, coagulation, electrolytes) - $ 770
• Stress Echocardiography - $ 650
• 24-hour Holter ECG - $ 340
• Consulting cardiologist, -$ 650.
Application form for treatment