Dr. Alexander Kanevsky, MD, PHD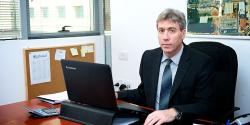 Medical Director of Manor Medical Center
Certified physician, PhD, graduated cum laude from the Crimea State Medical University, Simferopol, USSR.
Dr Kanevsky is in charge of medical management of Manor Medical Center and strategic development of the company.

Dr Kanevsky has developed new technology for rapid diagnosis of internal organs diseases, while working for "Medex Test", Israel.
Author of 8 international patents on diagnostic methods and devices in the field of internal medicine, urology and oncology.
In the past - Lecturer at the Russian Academy of Postgraduate Medical Education, Moscow, Russia.
Author of numerous articles in international medical journals.
Speaker at international scientific and medical congresses in Austria, Singapore, Australia, Seoul, Athens, Beijing.
20 years experience in medical practice and management of medical clinics, such as the Dead Sea "RAS" clinic.
16 years experience in development of diagnostic and other medical equipment (from concept to commercial realization)
Application form for treatment