Lung Cancer – Diagnosis and Treatment in Israel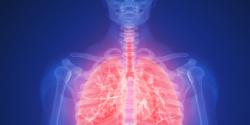 Lung Cancer – Diagnosis and Treatment in Israel
Lung cancer is a disease characterized by the random and uncontrolled cell growth of lung tissue. If left untreated, these cells can spread beyond the lung into nearby tissues and, eventually, into other parts of the body.
Carcinomas are known as primary lung cancers and account for most tumors originating in lungs. Long-term exposure to tobacco smoke and environmental pollutants are the primary cause of lung cancer. The most common symptoms include coughing (including hemoptysis), weight loss and shortness of breath.
Lung cancer is the leading cause of death among the men suffering from cancer, and is the third largest cause of death among women.
In recent years, the incidence of lung cancer is growing rapidly and steadily.
World statistics on claims 1,300,000 thousand deaths per year caused by lung cancer. In most cases, lung cancer is diagnosed at a late stage of the disease and only 15% of the patients cured.
If broncho-pulmonary tumor is suspected prompt confirmation of the diagnosis is crucial:
Provided below is the basic workup for lung cancer:
Blood tests (CMP, electrolyte, coagulation and lipid panels, cancer markers)- $740.
Whole-body PET-CT scan (in order to measure the size of the primary tumor and metastatic tumors) - $1,750.
Pulmonary function tests (spirometry, diffusion capacity and blood gas analysis, etc.) - $790.
CT/US-guided lung biopsy or bronchoscopic biopsy, including fast-track histopathology and immunohistochemistry studies - $4,290.
Cardiac stress test (functional assessment of the heart and coronary arteries and at rest and during exercise) - $520.
Consultation of onco-pulmonologist - $750.
Program duration - 7 working days.
Consultation is provided by onco-pulmonologist Dr. Amir Onn, Director of the Onco-pulmonology Institute at Sheba Medical Center.
When the tumor is contained (and no metastatic spread is detected) lobectomy surgery is performed.
The cost of the operation is $23,050, including up to 6 days of hospitalization, biopsy of the removed tumor, postoperative monitoring by the surgeons - Professor Ben Nun and Dr. Amir Onn Onn.
It is advised to remain in the country for at least 10 day post discharge.
When lungs, lymph nodes and other organs are affected the proposed treatment is chemotherapy. Chemotherapy regimen will be prepared and supervised by an onco-chemotherapist at Assuta Oncology Cancer.
First consultation - $ 600. The treatment can be carried out in Israel or at the patient's country of residence (according to the prescribed protocol).
Recently, a new type of radiation therapy has been introduced;
It can be prescribed in patients with bilateral lung cancer, provided the tumor has not yet spread beyond the lung itself. It can be combined with chemotherapy.
IMRT Rapid Arc (integrated boost) is the latest radiotherapy technology, allowing applying the entire radiation dose only onto the tumor itself, thus avoiding damage to healthy tissues and constantly adjusting the radiation dose by means of CT.
Tolerability and efficacy of this technique is considered much higher than in standard radiotherapy. 
The cost of one IMRT Rapid Arc session is $1,900.
The number of sessions is determined based on simulation and as indicated by the RT specialist - $1,540.
Application form for treatment