Hip replacement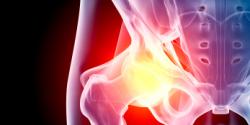 Hip replacement surgery is an effectiveway to restore lost function of the limbs.
It can be performed as a total replacement or a half replacement. This type of orthopedic surgery is generally conducted to relieve arthritis pain or fix severe joint damage due to a hip fracture
Endoprosthesis- replacement of the hip joint - is recommended in the following cases:
damage to the hip joint
degenerative-dystrophic diseases (arthrosis, arthritis)
rheumatoid arthritis
hip fracture, etc.
Usually, after examining an X-ray the doctor chooses the type of prosthesis. This may be an America, Johnson & Johnson prosthesis, or a British SRM. The prosthesis consists of a ceramic head and a titanium base. Sometimes (in the elderly and overweight patients) additional cement mounting is used. Prostheses differ in head sizes (depending on the size of the joint and the patient's weight).
The package includes a hip replacement preoperative scan (X-ray of two hips in two projections, routine laboratory tests, ECG, chest x-ray, orthopedic consultation, consult an anesthesiologist), prosthesis operation (usual duration is 1.5 hours), 7 days of hospitalization in the orthotics department of "Assuta" hospital, Tel Aviv, and postoperative monitoring of 10 days, following the hospital discharge. The entire package costs $ 26.100 $ in case British, SRM joints are used, and $ 27.100 $ in the case America, J & J joints are used.
17 days after surgery a patient can return home.
Application form for treatment